Realistic 3D Moon Lamp (Various Sizes)
Did you ever dream of touching the moon? Well, with this lamp, the moon has never been closer and it surely is out of this world! 
The warm and subtle light emitted by this lamp will give you a relaxing ambiance and create a magical and romantic environment in every room. 
The lamp was designed according to NASA satellite images to accurately  reproduce the moon's surface, texture spots and craters, done so with the help of 3D printing technology.
So, if you wish to create an enchanting setting, indulge yourself with the soothing glow of our photorealistic moonlight.
Features:
3D printed with eco-friendly materials
Touch to change color and adjust brightness (from white to orange)
Long press to enable the dim function
Available in 8 sizes (choose yours in the drop down menu above)
Comes with a beautiful wooden base to make the perfect gift
You can bring down the moon for your loved one with this super realistic moon lamp!   
Get yours today by clicking the "Add To Cart" button above now!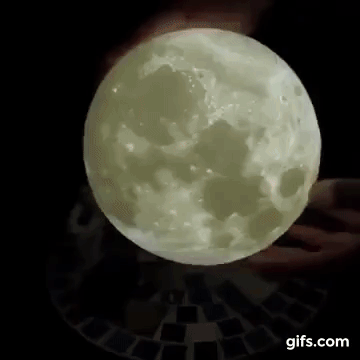 Unhappy With Your Product? We'll make it right!
If for any reason you have changed your mind about your purchase, or the item you received is damaged, or otherwise not as described on our website, we offer a full refund (excluding shipping costs) for up to 30 days from the original purchase date.
* Please allow 7-15 working days for international deliveries.
** Please note that if you order multiple items from our store, you will receive each item in a separate package and at different delivery times.